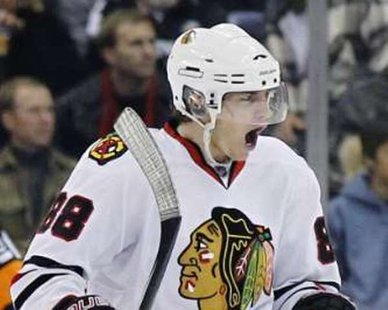 UNDATED (WHTC) - In a Monday Night Football game that you heard on 1450 WHTC, Seattle won at St. Louis, 14-9. Upcoming pro gridiron broadcasts from Dial Global on Holland's Hometown Station include Cincinnati at Miami on Thursday evening at 8 PM, Indianapolis at Houston on Sunday night at 7:30 PM, and the Bears at Green Bay next Monday evening at 8 PM.
***
Patrick Kane and Brandon Saad each had a goal and an assist, as the Blackhawks won at Minnesota last night, 5-1. Chicago is home to Ottawa at the United Center this evening.
The Red Wings open up a four-game Western Canada road trip in Vancouver tomorrow night. Coverage on 1450 WHTC is at 10:10 PM.
***
The Chicago Bulls begin a new NBA season this evening by playing the two-time defending champion Heat in Miami.
***
High school football tournament action begins on Friday night at 6:40 PM. Hear the Zeeland East-Zeeland West game on 1450 WHTC and http://whtc.com/listen-live, or the Saugatuck at Pewamo-Westphalia contest on 92.7 The Van and http://927thevan.com/listen-live.