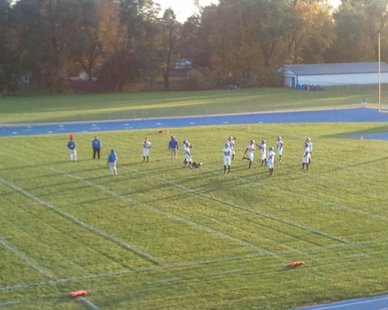 UNDATED (WHTC) - The high school regular season ended along the Lakeshore on Friday night. Zeeland West captured the OK Green title with a 36-13 win over visiting Byron Center, while Saugatuck took the SAC North crown with a 58-13 triumph at Gobles. The Dux and Indians are the only two teams from this area assured of a state tournament berth when pairings are announced on Sunday evening. Two other squads failed to get the sixth victory needed to ensure post-season play, as West Ottawa fell at Hudsonville, 28-21, and Zeeland East slipped at Kenowa Hills, 21-7. The Panthers and Chix may still get in with five triumphs, depending on results elsewhere across the state. In other games: Holland won at Hamilton, 35-13; Holland Christian fell to Unity Christian, 36-22; and Fennville defeated Bloomingdale, 42-14.
***
Hope College entertains Kalamazoo College on Community Night at Ray and Sue Smith Stadium on Saturday evening. Coverage on 92.7 The Van and http://927thevan.com/listen-live is at 6:40 PM.
Grand Valley State is in Midland on Saturday afternoon to battle Northwood.
In state major college football on Saturday: Michigan State visits Illinois; Western Michigan travels to Massachusetts; and Eastern Michigan is at Northern Illinois.
***
The Red Wings welcome the New York Rangers to Joe Louis Arena in Detroit on Saturday night. Broadcast time from Hockeytown is at 6:40 PM on 1450 WHTC.
The Chicago Blackhawks are back at the United Center on Saturday evening, entertaining Minnesota.
***
John Muse made 30 saves as he backstopped visiting Charlotte to a 5-0 triumph over the Griffins at Van Andel Arena on Friday night. Grand Rapids is in suburban Chicago to face the Wolves on Saturday evening.