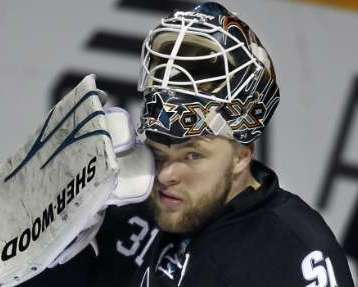 UNDATED (WHTC) - Antti Niemi made 24 saves in 65 minutes of play, and then three more in the shootout, as he backstopped visiting San Jose to a 1-0 victory over the Red Wings last night. Detroit hosts Ottawa tomorrow evening. Coverage from Joe Louis Arena on 1450 WHTC begins at 7:10 PM.
The Chicago Blackhawks are in Miami to face the Florida Panthers tonight.
***
In a Monday Night Football game you heard on 1450 WHTC last evening, the New York Giants defeated visiting Minnesota, 23-7. Catch the Seattle at St. Louis contest next Monday night at 8 PM on Holland's Hometown Station.