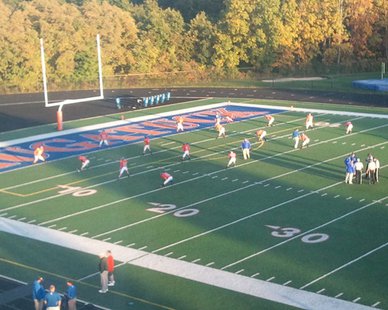 UNDATED (WHTC) - Unlike last Friday, when all of the road teams along the Lakeshore posted victories, it was home teams that came out on top in high school football action this Friday night. Holland Christian downed Holland, 56-21; West Ottawa lost at East Kentwood, 34-18; Zeeland East fell at Mona Shores, 47-26; Zeeland West routed Hamilton, 64-14; and Saugatuck handled Fennville, 42-7. Next Friday evening at 6:40 PM, hear the Hamilton versus Unity Christian contest on 1450 WHTC and http://whtc.com/listen-live, or the Bangor at Saugatuck game on 92.7 The Van and http://927thevan.com/listen-live.
***
Hope College hits the road on Saturday, taking on the undefeated Comets in Olivet. Broadcast time on 92.7 The Van and http://927thevan.com/listen-live is 12:40 PM.
Grand Valley State takes on arch-rival Ferris State at Top Taggert Field in Big Rapids on Saturday evening.
In state major college football on Saturday: Michigan State entertains Indiana; Michigan travels to Penn State; Western Michigan is home to Buffalo; Central Michigan invades Ohio U.; and Eastern Michigan is at West Point to battle Army.
***
The Tigers open up the best-of-seven American League Championship Series in Boston on Saturday evening. Coverage on 1450 WHTC begins at 7:40 PM.
***
On the ice, Michal Handzus' goal at the 6:45 mark of the second period broke a 2-2 tie, and the Blackhawks made the slim margin stand up in a 3-2 victory over the visiting New York Islanders on Friday night. Saturday evening hockey action finds the Detroit Red Wings home to Philadelphia; Chicago entertaining Buffalo at the United Center; and the Grand Rapids Griffins in Hamilton, Ontario for an AHL game versus the Bulldogs.