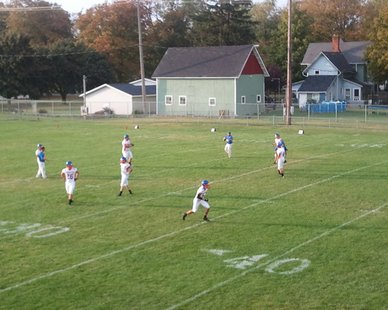 UNDATED (WHTC) - One common thread emerged on Friday night's high school football scoreboard - all of the road teams won: Byron Center 50, Holland 24; Holland Christian 43, Hamilton 27; in overtime, West Ottawa 20, Grand Haven 14; Reeths-Puffer 46, Zeeland East 26; Zeeland West 54, Unity Christian 20; Saugatuck 62, Martin 6; and Bangor 34, Fennville 6. Next Friday evening at 6:40 PM, hear the Holland at Holland Christian game on 1450 WHTC and http://whtc.com/listen-live, or the Fennville at Saugatuck contest on 92.7 The Van and http://927thevan.com/listen-live.
***
Hope College welcomes Adrian to Ray and Sue Smith Stadium for Homecoming on Saturday afternoon. Coverage begins at 1:40 PM on 92.7 The Van and http://927thevan.com/listen-live.
Grand Valley State returns to Luebbers Stadium in Allendale on Saturday night, hosting Michigan Tech.
In state major college football on Saturday: Michigan State travels to Iowa; Michigan is home to Minnesota; Western Michigan plays Toledo in the Glass Bowl, Central Michigan visits Miami of Ohio, and Eastern Michigan shuffles off to Buffalo.
***
Stephen Weiss' first goal as a Red Wing came at the 3:13 mark of overtime on Friday night, as Detroit rallied to win at Carolina, 3-2. Detroit is in Boston on Saturday evening.
The Chicago Blackhawks entertain Tampa Bay at the United Center on Saturday night.
***
Ryan Sproul scored twice in a five-goal second period for the Griffins, who began the season with a waltz over the Americans in Rochester on Friday night, 8-1. Grand Rapids travels to Toronto for a game against the Marlies on Saturday afternoon.