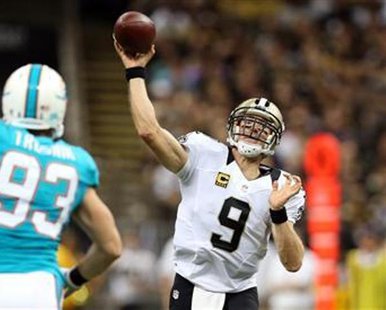 UNDATED (WHTC) - In a Monday Night Football game that you heard on 1450 WHTC, New Orleans downed visiting Miami, 38-17. The Saints play the Bears in Chicago next Sunday. NFL coverage on Holland's Hometown Station continues on Thursday evening at 8 PM, as Buffalo visits Cleveland.
***
The Chicago Blackhawks begin defense of their Stanley Cup triumph of last spring when they welcome the Washington Capitals to the United Center tonight. Tomorrow evening at 7:40 PM on 1450 WHTC, the Detroit Red Wings start their season by hosting Buffalo at Joe Louis Arena.
***
Major League Baseball's post-season lineup was finalized last night with Tampa Bay's 5-2 win at Texas. The Rays are at Cleveland tomorrow evening in the American League Wild Card play-in contest, while the NL Wild Card game is tonight in Pittsburgh, as the Pirates entertain Cincinnati.
The Tigers yesterday received their marching orders for the first two games of the American League Divisional Series at Oakland. In action you can hear on 1450 WHTC, Detroit's contest on Friday night airs at 9:10 PM, following Holland Christian-Hamilton high school football, and the Saturday evening broadcast time is at 8:40 PM, preempting the scheduled Red Wings-Boston match on Holland's Hometown Station.