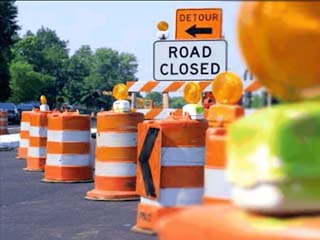 GRANDVILLE, MI (WHTC) - There were some harrowing moments for road construction workers on the Ottawa-Kent county line last night.
Crew members were on the Kenowa Avenue bridge spanning I-196 south of Jenison when one of them, whose name was not immediately disclosed, fell off of a platform about 20 feet to some rocky ground below. He was taken to an unnamed hospital in stable condition with what was described as moderate, non-life threatening injuries. Inspectors believed that a chain connecting the worker to some equipment snapped, causing the fall.
That bridge, along with the 8th Avenue span about a mile away, are undergoing complete renovations that are scheduled to last through mid-November.