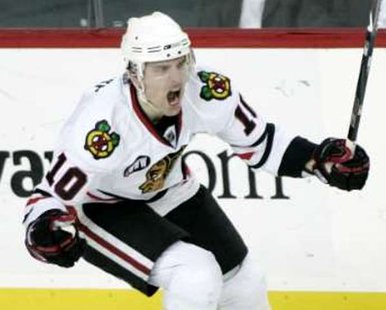 UNDATED (WHTC) - NFL action on 1450 WHTC at 8 PM tonight finds Washington at Minnesota. On Sunday at 12 Noon on Holland's Hometown Station, hear the Lions' game in Chicago against the Bears.
***
Patrick Sharp scored one goal and set up another, as the Blackhawks beat visiting Winnipeg last night, 4-1. Chicago travels to Dallas on Saturday evening, after the Stars play the Red Wings in Detroit tonight.
***
Paul George tossed in 21 points as Indiana defeated the visiting Bulls last night, 97-80. Chicago hosts Utah tomorrow evening.
***
Gustav Nyquist had two goals as the Griffins downed visiting Rockford yesterday, 6-2, in the annual morning matinee at Van Andel Arena. Grand Rapids plays Hamilton in Ontario tomorrow evening.
***
Hear the Zeeland West-Grand Rapids Christian MHSAA football tournament game tomorrow night at 6:40 PM on 1450 WHTC, http://whtc.com/listen-live, 92.7 The Van, and http://927thevan.com/listen-live.
***
In state major college football last night, Central Michigan lost at Ball State, 44-24.