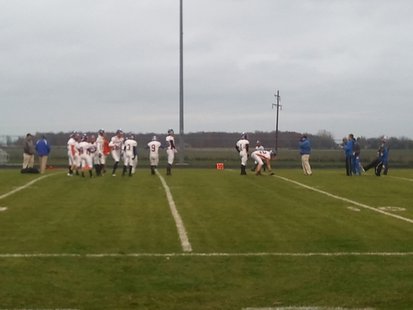 UNDATED (WHTC) - In the state high school football tournament last night, Zeeland West downed Zeeland East, 44-13, and Saugatuck fell at Pewamo-Westphalia, 57-21. The Dux will host the winner of today's Forest Hills Northern at Grand Rapids Christian in a second round playoff contest next Friday or Saturday, with coverage on 1450 WHTC and http://whtc.com/listen-live; an official confirmation of date and time will be on Monday.
***
Hope College travels to Trine University in Angola, Indiana this afternoon for a MIAA football contest. Hear the game on 92.7 The Van and http://927thevan.com/listen-live, beginning at 12:40 PM.
Grand Valley State is home to Hillsdale at Luebbers Stadium in Allendale tonight.
In state major college football, Michigan visits Michigan State today, and Eastern Michigan invades Toledo this evening.
***
Justin Abdelkader's goal with 3:24 left stood up as the game-winner, as the Red Wings won at Calgary last night, 4-3. Detroit travels to Edmonton this evening, with broadcast time on 1450 WHTC at 9:40 PM.
The Chicago Blackhawks return to action this afternoon in Winnipeg against the Jets.
***
Mike Conley's 22-point performance helped Memphis outlast the visiting Pistons in overtime last night, 111-108. Detroit welcomes Boston to the Palace tomorrow evening.
The Chicago Bulls play the 76ers in Philadelphia tonight.
***
Gustav Nyquist set up both of Tomas Jurco's goals in a three-assist performance, spearheading the Griffins' 6-4 triumph in Cleveland versus the Lake Erie Monsters last night. Grand Rapids skates at Rockford tomorrow evening.