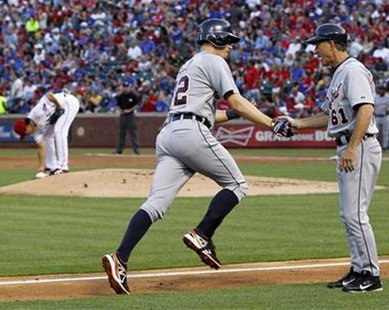 UNDATED (WHTC) - Geovany Soto's three-run homer capped a seven-run third inning off of Justin Verlander, and Texas routed the visiting Tigers last night, 10-4. The series at Rangers Ballpark in Arlington continues this evening. Coverage on 1450 WHTC begins at 7:40 PM.
The Cubs welcome the New York Mets to Wrigley Field in Chicago this afternoon for the start of a three-game series.
Jeff Keppinger walked with the bases loaded to cap a three-run eighth inning, as the visiting White Sox rallied past the LA Angels last night, 5-4. The series at Angel Stadium in Anaheim continues this evening.
***
Devin Travis' two-run double capped a five-run second inning for the Whitecaps, who went on to win at Dayton last night, 6-4. West Michigan returns home to begin a four-game series versus Bowling Green at Fifth Third Ballpark this evening.
***
The Griffins entertain Toronto at Van Andel Arena tonight in AHL Calder Cup playoff action. Grand Rapids leads the best-of-seven Western Conference Semifinals, two games to one.