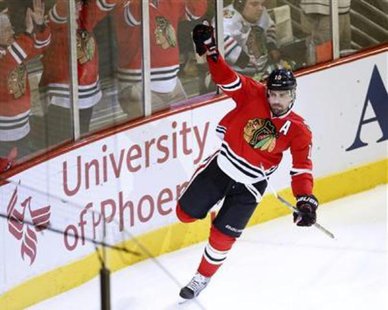 UNDATED (WHTC) - Carlos Corporan's RBI double in the ninth inning broke a 5-5 tie, and visiting Houston salvaged yesterday's finale of the series at Comerica Park over the Tigers, 7-5. Detroit opens a four-game series at Texas this evening. Coverage on 1450 WHTC begins at 7:40 PM.
Jeff Samardzija scattered five hits with seven strikeouts over eight innings, and added a two-run homer to boot, in leading the Cubs over visiting Colorado in the rubber game of the series at Wrigley Field last night, 6-3. Chicago hosts the New York Mets tomorrow afternoon.
Adam Dunn cracked two homers and drove in five runs, powering the White Sox to a 9-4 victory at Minnesota in the rubber game of the series at Target Field in Minneapolis yesterday. Chicago plays the LA Angels in Anaheim tomorrow evening.
***
Jeff Holm homered and knocked in five runs, as the Whitecaps won in Dayton last night, 11-3. The rubber game of the series at Fifth Third Field in Ohio is this evening.
***
Patrick Sharp had a goal and two assists as the Blackhawks drew first blood in their NHL Stanley Cup playoff series against the visiting Red Wings last night, 4-1. Chicago leads the best-of-seven Western Conference Semifinals, one game to none, and will host Detroit in game two at the United Center on Saturday afternoon.
***
LeBron James tallied 23 points as defending NBA champion Miami eliminated the visiting Bulls from the playoffs last night, 94-91. The Heat won the best-of-seven Eastern Conference Semifinals, four games to one.
***
Francis Pare's goal with less than three minutes left in the second period broke a 3-3 tie, and the Griffins went on to defeat visiting Toronto in AHL Calder Cup playoff action last night, 5-4. Grand Rapids leads the best-of-seven Western Conference Semifinals, two games to one, and will host the Marlies at Van Andel Arena again tomorrow evening.