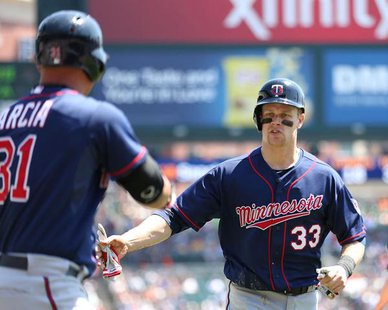 UNDATED (WHTC) - Chris Parmelee homered and drove in two runs as visiting Minnesota snapped the Tigers' five-game winning streak yesterday, 6-2. Detroit opens a four-game series in Houston against the Astros this evening. Coverage from Minute Maid Park on 1450 WHTC begins at 7:45 PM.
Scott Feldman fired a three-hit complete game, striking out 12 Padres in the process, as the Cubs defeated visiting San Diego last night, 6-2. The finale of the four-game series at Wrigley Field in Chicago is this afternoon.
Alejandro De Aza's two-run homer capped a decisive three-run seventh inning that broke a 2-2 tie, as the White Sox won at Texas last night, 5-2. The rubber game of the series at Rangers Ballpark in Arlington is this evening.
***
Austin Schotts' two-run homer broke a 2-2 tie and highlighted a five-run seventh inning for the Whitecaps, who went on to defeat visiting Cedar Rapids last night, 7-2. The series at Fifth Third Ballpark continues this evening.
***
The Detroit Red Wings skate at Anaheim tonight in game two of their NHL Stanley Cup playoff series, with the Ducks leading the Western Conference Quarterfinals, one game to none.
***
The Bulls welcome Brooklyn to the United Center tonight in game six of their NBA playoff series, with Chicago leading the Eastern Conference Quarterfinals, three games to two.
***
Adam Almquist's goal with 3:38 left snapped a 2-2 tie, and the Griffins downed visiting Houston in AHL Calder Cup playoff action last night, 4-2. Grand Rapids leads the best-of-five Western Conference Quarterfinal Series, two games to one, and hosts the Aeros again tomorrow evening at Van Andel Arena.