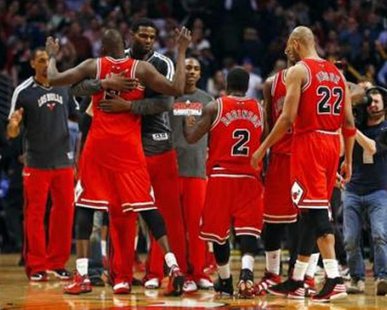 UNDATED (WHTC) - Luol Deng tossed in 28 points as the Bulls last night ended visiting Miami's 27-game winning streak, 101-97. Chicago travels to Dallas on Saturday evening.
***
The Detroit Red Wings are in San Jose tonight to face the Sharks. Broadcast time on 1450 WHTC is at 10:10 PM.
***
Exhibition baseball yesterday saw the Tigers lose to Philadelphia, 4-1; the White Sox edge Cleveland, 5-4; and the Cubs draw with Kansas City after 10 innings, 9-9. Today, the Tigers face Houston, with coverage on 1450 WHTC at 1 PM, while the Cubs battle Seattle, and the White Sox have broken camp in Arizona before playing a couple of pre-season contests in Milwaukee, beginning tomorrow.
***
The Grand Rapids Griffins skate in San Antonio against the Rampage this evening.
***
Western Michigan fell at the College Basketball Invitational semifinals in Fairfax, Virginia to host George Mason last night, 62-52. The Broncos end the season at 22-13.