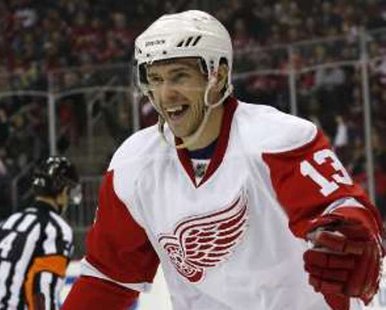 UNDATED (WHTC) - Pavel Datsyuk's power play goal at the 6:12 mark of the third period stood up as the game-winner, as the Red Wings were victorious at Phoenix last night, 3-2. Detroit visits San Jose on Thursday evening, with coverage on 1450 WHTC at 10:10 PM.
Dustin Brown's marker with just 1:27 left enabled visiting Los Angeles to rally past the Blackhawks last night, 5-4. Chicago welcomes Calgary to the United Center this evening.
***
Exhibition baseball yesterday saw the Tigers beat Florida, 6-3; the Cubs fall to San Francisco, 9-3; and the White Sox lose to the LA Angels, 11-5. Today, the Tigers face Atlanta in a game that is on 1450 WHTC at 1 PM, the Cubs take on Cincinnati and the White Sox battle Texas.
***
The Pistons are home to Minnesota at the Palace of Auburn Hills this evening.
***
Western Michigan needed overtime to win at Wyoming in the College Basketball Invitational tournament last night, 75-67. The Broncos travel to George Mason for a semifinal contest tomorrow evening.