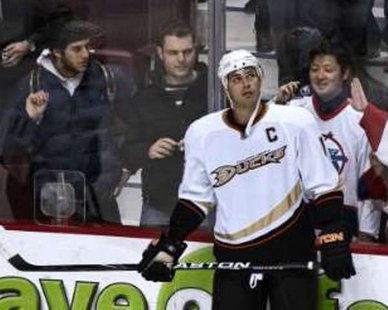 UNDATED (WHTC) - Devin Setoguchi scored twice, including one of Minnesota's three goals in the second period, as the visiting Wild beat the Red Wings last night, 4-2. Detroit skates at Anaheim tomorrow evening, with coverage on 1450 WHTC beginning at 9:40 PM.
Ryan Getzlaf set up two of Anaheim's three third-period goals as the Ducks rallied past the visiting Blackhawks last night, 4-2. Chicago is off until hosting Los Angeles at the United Center on Monday evening.
***
Off yesterday, the Tigers resume Grapefruit League action tonight by taking on Houston. Hear the game on 1450 WHTC, beginning at 6 PM.
Out west, as the Cubs were idle from competition, the White Sox fell to Arizona yesterday, 4-2. Today, the Pale Hose battle Milwaukee, while the Cubs split their squad to face both the LA Dodgers and Seattle.
***
The Chicago Bulls welcome the Portland Trailblazers to the United Center this evening.
***
NCAA basketball tournament action at the Palace finds Michigan State meeting Valparaiso in a noontime matinee, with Michigan going up against South Dakota State in the evening.
Western Michigan advanced in the College Basketball Invitational tournament by edging visiting North Dakota State in overtime last night, 72-71. The Broncos travel to Wyoming on Monday evening.
The University of Detroit's season ended last night with a first-round, 83-68 loss at Arizona State in the National Invitation Tournament.