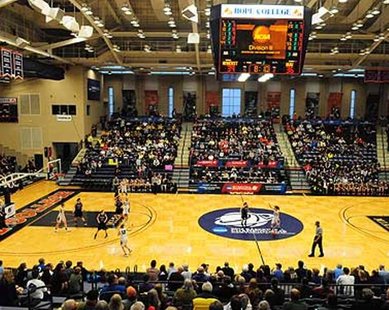 UNDATED (WHTC) - At the NCAA Division III women's basketball tournament semifinals in DeVos Fieldhouse on Friday night, Wisconsin-Whitewater edged Amherst in overtime, 64-62, and DePauw defeated Williams, 59-56. On Saturday evening, Amherst faces Williams in the third-place game, while Wisconsin-Whitewater meets DePauw for the national championship.
Men's conference basketball tournament play on Friday saw Michigan State down Iowa, 59-56; Michigan fall to Wisconsin, 68-59; and Western Michigan lose to Ohio, 74-63. On Saturday, Michigan State meets Ohio State at the Big 10 tournament in Chicago.
***
Pavel Datsyuk's goal at the 3:39 mark of overtime lifted the Red Wings to victory at Edmonton on Friday night, 3-2. Detroit skates at Vancouver on Saturday evening, with broadcast time on 1450 WHTC at 9:40 PM.
The Chicago Blackhawks are in Dallas to face the Stars on Saturday night.
***
Exhibition baseball on Friday saw the Tigers handle Toronto, 4-2, and the White Sox whip the Cubs, 15-3. On Saturday, the Tigers face St. Louis in a game you can hear on 1450 WHTC, beginning at 1 PM; the Cubs split their squad to face both Texas and Kansas City; and the White Sox battle Oakland.
***
Luol Deng tossed in 23 points as the Bulls won at Golden State on Friday night, 113-95. Chicago is off until hosting Memphis at the United Center on Monday evening.
The Detroit Pistons play the Trail Blazers in Portland on Saturday night.
***
American Hockey League action at the Kohl Center in Milwaukee on Saturday evening finds the Grand Rapids Griffins battling the host Admirals.