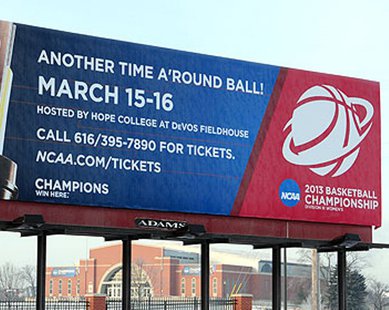 UNDATED (WHTC) - The NCAA Division III women's basketball tournament semifinals are at DeVos Fieldhouse in Holland this evening, with Amherst taking on Hope's vanquishers, Wisconsin-Whitewater, followed by DePauw versus Williams.
In conference men's basketball tournament play last night: Michigan downed Penn State, 83-66; and Western Michigan defeated Eastern Michigan, 70-55. Today, Michigan faces Wisconsin at the Big 10 tournament in Chicago; this evening, Michigan State plays Iowa in the Big 10 tourney, while Western Michigan meets Ohio at the Mid-American Conference tournament in Cleveland.
***
The Detroit Red Wings are in Edmonton to take on the Oilers this evening. Broadcast coverage on 1450 WHTC begins at 9:10 PM.
Patrick Kane's goal in the third round of the shootout enabled the Blackhawks to win at Columbus last night, 3-2. Chicago skates at Dallas tomorrow evening.
***
Exhibition baseball yesterday saw the Tigers beat the New York Mets, 9-1; the Cubs down the LA Dodgers, 8-1; and the White Sox fall to the LA Angels, 12-4. Today, the Tigers' game in Florida versus Toronto is on 1450 WHTC at 1 PM, while the Cubs and White Sox meet in Arizona.
***
In the NBA tonight, the Chicago Bulls are in Oakland to battle the Golden State Warriors.