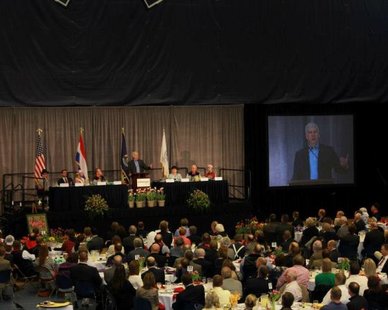 HOLLAND, MI (WHTC) - Rick Snyder is coming back to Holland.
Michigan's Governor confirmed to Tulip Time Festival officials on Tuesday afternoon his acceptance of their invitation to be the keynote speaker for the Festival Luncheon on Wednesday, May 8, at 11 AM in DeVos Fieldhouse. It will be the third straight visit for the sitting Chief Executive after his predecessor, Jennifer Granholm, skipped the final three luncheons during her tenure, compelling the festival to change the name of the event from the traditional "Governor's Luncheon" to the "Tulip Time Festival Luncheon."
Mr. Snyder, who performed in a marching band during his school days at the festival, is also expected to don traditional Dutch garb and participate in the ceremonial "street scrubbing" along 8th Street in downtown Holland during the Volksparade following the luncheon, something that he has done in his previous two visits as Governor. The announcement comes on the same day that Lieutenant Governor Brian Calley made his third straight annual appearance before the Michigan West Coast Chamber of Commerce's "Early Bird Breakfast" at the Haworth Inn, perhaps starting a tradition of his own.
Tickets for the Tulip Time Luncheon are $40 and are available online at http://www.tuliptime.com/luncheon or through the Tulip Time Festival offices on 8th Street across from the Holland District Courthouse/Public Safety Headquarters.