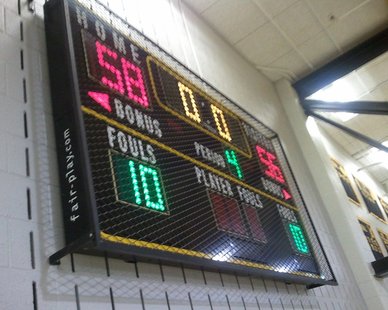 UNDATED (WHTC) - In the state high school boys' basketball tournament last night: Hamilton ended a 17-game March Magic losing streak going back to 1996 by defeating Holland Christian, 58-56; Zeeland East lost at Hudsonville, 50-46; Fennville beat Saugatuck, 57-54; and Calvary won at Freedom Christian, 53-47. Hear the Unity Christian at Hamilton district final game on 1450 WHTC and http://whtc.com/listen-live on Friday evening at 6:40 PM.
***
The Tigers, 4-1 exhibition winners over Toronto yesterday, take on Atlanta in Grapefruit League play this evening. Catch all of the spring training action from Florida on 1450 WHTC, beginning at 6 PM.
In Arizona, the Cubs, who lost to Texas yesterday, 3-2, face the White Sox this afternoon.
***
Breland Hogan and Tony Peters each scored 15 points, as Grand Valley State beat visiting Hillsdale last night, 73-57. The Lakers face Lake Superior State in a GLIAC tournament semifinal at Houghton on Saturday.
In the GLIAC women's tournament last evening, Grand Valley State lost at Michigan Tech, 71-56, as Sam Hoyt led the winning effort for the Lady Huskies with 20 points.
State major college basketball last night saw Michigan win at Purdue, 80-75. Michigan State is home to Wisconsin this evening.
Hope plays St. Thomas in a NCAA Division III women's basketball tournament third round game at Whitewater, Wisconsin tomorrow night. Coverage on 92.7 The Van and http://927thevan.com is at 5:40 PM.
***
Dan Carcillo's goal with 50 seconds left enabled the Blackhawks to edge visiting Colorado last night, 3-2. The two teams have a rematch in Denver tomorrow evening.
The Red Wings are home to Edmonton tonight. Our next Red Wings' game on 1450 WHTC is on Sunday at 4:40 PM, as Detroit welcomes Columbus to Hockeytown.
***
Raymond Felton's 26-point performance helped the visiting New York Knicks beat the Pistons last night, 87-77. Detroit is home to Dallas at the Palace tomorrow evening.
Tim Duncan and Manu Ginobili each scored 18 points as San Antonio downed the visiting Bulls last night, 101-83. Chicago plays the Lakers in Los Angeles on Sunday afternoon.