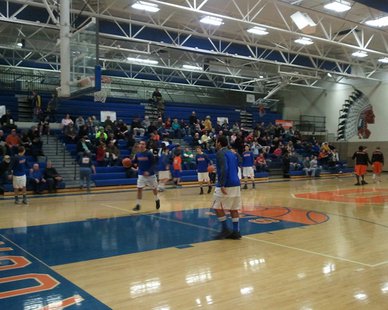 UNDATED (WHTC) - The state high school boys' basketball tournament resumes this evening with district semifinal action. At 7:40 PM, hear the Zeeland East at Hudsonville game on 1450 WHTC and http://whtc.com/listen-live, or the Holland Christian at Hamilton contest on 92.7 The Van and http://927thevan.com/listen-live. Other match ups include Saugatuck at Fennville and Calvary at Freedom Christian. In girls' regional semifinal play last night, Hamilton was eliminated by Ionia, 42-27.
***
After taking yesterday off from competition, the Tigers are back in Grapefruit League action this afternoon, facing Toronto in a game that is on 1450 WHTC at 1 PM. The Cubs, 6-3 losers to Colorado yesterday, take on Texas today, while the White Sox, who played a 4-4 tie with the US team competing in the World Baseball Classic, take an entire afternoon away from the ballpark.
***
Goals by Johan Franzen and Niklas Kronwall were enough for the Red Wings to edge visiting Colorado last night, 2-1. While the Avalanche head to Chicago this evening, Detroit awaits the arrival of Edmonton to Joe Louis Arena tomorrow night. Bryan Bickell scored two of the Blackhawks' four goals in the first period in a 5-3 victory over visiting Minnesota last night.
***
Grand Valley State's basketball teams begin GLIAC tournament play this evening. While the women are in Houghton to face Michigan Tech, the men host Hillsdale at the Fieldhouse Arena in Allendale.
In state major college basketball last night: Western Michigan fell to visiting Ball State, 89-85; and Central Michigan got past visiting Eastern Michigan, 61-59. This evening, Michigan travels to Purdue.
Hope College faces St. Thomas of Minnesota in a third-round NCAA Division III women's basketball tournament game in Whitewater, Wisconsin on Friday night. Catch all of the action on 92.7 The Van and http://927thevan.com/listen-live at 5:40 PM.
***
NBA play this evening finds the Detroit Pistons hosting New York at the Palace, and the Chicago Bulls in San Antonio to face the Spurs.