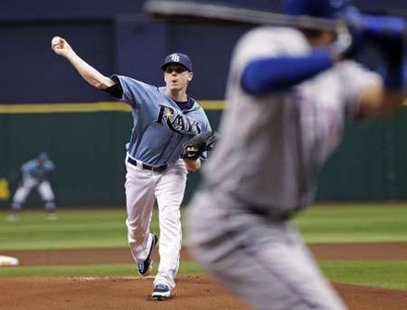 UNDATED (WHTC) - Jeremy Hellickson scattered six hits with six strikeouts over six innings as Tampa Bay defeated the visiting Tigers on Sunday, 3-1. Coupled with Cleveland's 4-0 win in Chicago over the White Sox, in which Justin Masterson fired six-hit, eight-strikeout shutout for the Indians, it puts the Bengals and Tribe in a virtual tie for first place in the AL Central. On Monday, Detroit visits Toronto for a Canada Day matinee at the Rogers Centre, with broadcast time on 1450 WHTC at 12:40 PM, while both of Sunday's combatants at US Cellular Field return to action on Tuesday evening - the Pale Hose host Baltimore in Chicago, while the Yahoos visit Kansas City.
Anthony Rizzo drove in two runs with a single and a double as the Cubs raced to a 7-1 lead in the fourth inning at Seattle on Sunday, but then had to hold off the Mariners to win, 7-6. Chicago returns to action on Tuesday evening at Oakland.
***
Leonardo Reginatto drove in five runs with his three-hit performance, leading visiting Bowling Green to an 8-1 triumph over the Whitecaps on Sunday. The two teams conclude their series at Fifth Third Ballpark on Monday afternoon.