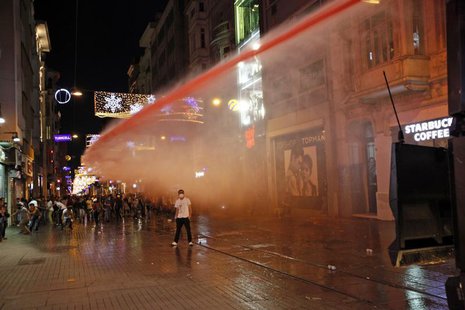 By Adrian Croft and Justyna Pawlak
LUXEMBOURG (Reuters) - European Union ministers said they were hopeful of reaching an agreement on Tuesday that would delay reviving membership talks with Turkey to signal European concerns over Ankara's handling of weeks of protests.
Germany, backed by several other states, has blocked an EU proposal to open a new chapter, or policy area, in slow-moving membership talks with Turkey on Wednesday because it believes it would send the wrong signal so soon after the crackdown.
On Monday, Berlin proposed delaying the formal opening of the new chapter with Turkey by about four months to signal EU displeasure over the response to the protests.
A delay in opening the new chapter would raise new doubts about whether Turkey, a largely Muslim country of 76 million people, will ever be admitted to the European club.
Eamon Gilmore, foreign minister of Ireland, which currently holds the EU presidency, said differences among EU governments had narrowed enough for Ireland to put Turkey on the agenda of a meeting of EU ministers in Luxembourg on Tuesday.
"I hope it will be possible to get agreement (on the chapter)," Gilmore told reporters as he arrived for the meeting.
German Foreign Minister Guido Westerwelle said he had made some changes to his proposal but gave no details.
"I had constructive talks very late with the Turkish foreign minister (Ahmet Davutoglu) so that it is possible to come to an agreement today," he told reporters in Luxembourg.
"Among all the understandable reactions (to the protests), we feel we cannot ignore that we have long-term strategic interests. We have to weigh that," he said.
Under proposals discussed by EU ambassadors late on Monday, the EU would agree to open Chapter 22 on regional policy with Turkey but a formal conference with Turkey to open the chapter would take place only after the European Commission presents its annual report on Turkey's progress in complying with EU laws and standards, due on October 9.
Ministers would have to have another discussion after that confirming the decision to open talks and setting a date, according to a draft text.
Luxembourg Foreign Minister Jean Asselborn said the German proposal was a good compromise that the EU should be able to ratify on Tuesday.
"We will say 'yes' in principle to opening Chapter 22 and then start it after some time, he said.
A senior Turkish official told Reuters last week that a decision by the EU not to open the new chapter would "draw a strong reaction from Turkey".
The delay would be helpful to German Chancellor Angela Merkel because it would push back the talks until after the elections in Germany in September. Merkel's conservatives oppose Turkish EU membership.
Protests swept Turkish cities after police used teargas and water cannon to disperse a demonstration against redevelopment of an Istanbul square. Two weeks of clashes with police have left four people dead, including a policeman, and about 7,500 injured.
(Reporting by Adrian Croft)