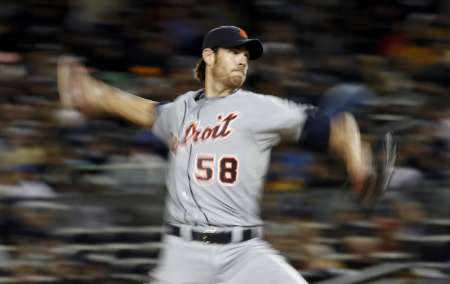 UNDATED (WHTC) - Doug Fister allowed just two hits and struck out seven over nearly eight innings, as the Tigers won at Minnesota on Sunday, 5-2. Detroit begins a three-game series against Baltimore at Comerica Park on Monday night. Coverage on 1450 WHTC begins at 6:40 PM.
Kirk Nieuwenhuis' three-run homer capped a four-run bottom of the ninth inning off of Carlos Marmol, as the New York Mets rallied to beat the visiting Cubs on Sunday, 4-3. Chicago visits St. Louis on Monday evening.
Matt Domingez slugged a three-run double in the second inning, while Jason Castro clubbed a two-rufn homer in the seventh, and that accounted for all of Houston's scoring in a 5-4 victory over the visiting White Sox on Sunday. The series at Minute Maid Park concludes on Monday night.
***
Diego Gomis had three hits and drove in three runs, leading visiting Fort Wayne to a 10-5 triumph over the Whitecaps on Sunday. The entire Midwest League now breaks for the All-Star Game in Dayton on Tuesday evening. West Michigan is back in action on Thursday night, taking on the Great Lakes Loons in Midland.