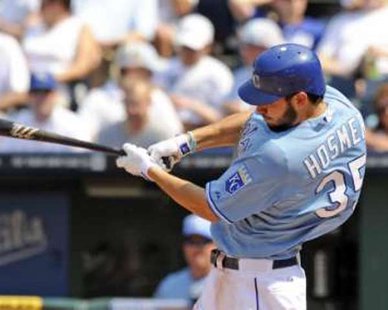 UNDATED (WHTC) - Eric Hosmer's single in the 10th inning plated the winning run, as Kansas City rallied past the visiting Tigers yesterday, 3-2. Detroit opens a three-game series at Minnesota tomorrow evening, with coverage on 1450 WHTC at 7:45 PM.
Todd Frazier's homer in the seventh inning broke a 1-1 tie, as visiting Cincinnati edged the Cubs yesterday, 2-1. The series at Wrigley Field in Chicago concludes this afternoon.
The threat of storms compelled White Sox officials to call off last night's scheduled game against visiting Toronto at US Cellular Field several hours in advance. No makeup date was immediately announced. Chicago starts a three-game series at Houston tomorrow evening.
***
Malcolm Holland's single in the 11th inning scored the winning run, as Great Lakes got past the visiting Whitecaps last night, 3-2. West Michigan looks to avoid being swept out of Midland's Dow Diamond in this evening's series finale that is on 1450 WHTC and http://whtc.com/listen-live at 6:55 PM.
***
Andrew Shaw's goal at the 12:08 mark of the third overtime enabled the Blackhawks to outlast visiting Boston in NHL playoff action last night, 4-3. Chicago leads the best-of-seven Stanley Cup Finals, one game to none, and will host the Bruins in game two at the United Center on Saturday evening.
***
Jeff Hogan scored with 4:49 left to break a 2-2 tie, and then sealed the win with another marker just over two minutes later, as the Griffins downed visiting Syracuse in AHL playoff action last night, 4-2. Grand Rapids leads the best-of-seven Calder Cup Finals, three games to none, and can win its first ever pro hockey championship when it hosts the Crunch in game four at a sold-out Van Andel Arena tomorrow evening.