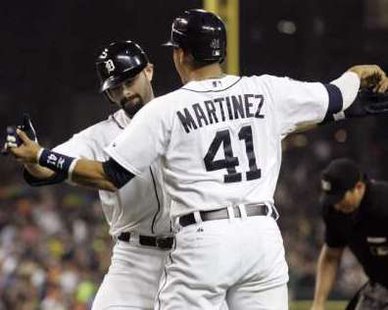 UNDATED (WHTC) - Alex Avila's grand slam home run in the sixth inning broke a 1-1 tie, enabling the Tigers to beat visiting Washington last night, 5-1. The brief, two-game series at Comerica Park ends this afternoon. Coverage on 1450 WHTC begins at 12:40 PM.
Milwaukee took a doubleheader from the Cubs at Wrigley Field yesterday. Jean Segura's RBI double in the seventh inning was the winning hit as the Brewers captured the opener, 6-5. Jeff Bianchi's two-run single in the ninth enabled the visitors to win the nightcap, 3-2. The series in Chicago concludes this evening.
Former Tiger and Whitecap Ryan Raburn's pinch-hit, two-run single in the eighth inning ignited a four-run rally, as Cleveland upended the visiting White Sox last night, 7-4. The series at Progressive Field continues this evening.
Last night, the Tigers, White Sox and Boston completed a three-team deal, with Detroit acquiring shortstop Jose Iglesias to replace Jhonny Peralta, who is expected to be suspended in the Biogenesis scandal, Chicago getting outfielder Avisail Garcia and three minor leaguers, and the Red Sox picking up pitchers Jake Peavy and Brayan Villereal.
***
Jared Reaves' single in the bottom of the ninth inning plated the winning run, as the Whitecaps edged visiting Great Lakes last night, 2-1. The series continues this evening at Fifth Third Ballpark, and you can catch all of the action on 1450 WHTC and http://whtc.com/listen-live, beginning at 6:50 PM.