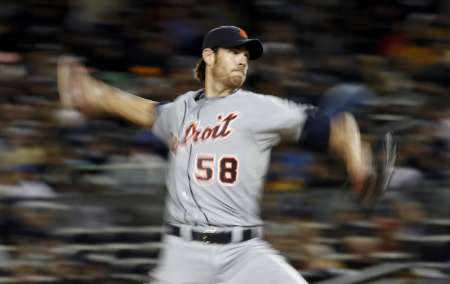 UNDATED (WHTC) - Doug Fister scattered six hits with five strikeouts over six innings, as the Tigers salvaged the series finale in Kansas City yesterday, 4-1. Detroit now opens a four-game series in Chicago last night versus the White Sox, who beat visiting Atlanta yesterday, 3-1, as Josè Quintana allowed nine hits and struck out four in nearly six innings to get the victory. Hear all of the action from US Cellular Field at 7:45 PM on 1450 WHTC.
Nolan Arenado's single in the sixth inning broke a 2-2 tie, and Colorado never trailed after that in edging the visiting Cubs yesterday, 4-3. Chicago begins a four-game series in Phoenix against the Arizona Diamondbacks this evening.
***
Three Whitecaps pitchers combined to toss a four-hit shutout, striking out four in the process, as West Michigan won at Peoria last night, 2-0. The Caps go for the series sweep of the Chiefs at Dozier Field this afternoon.