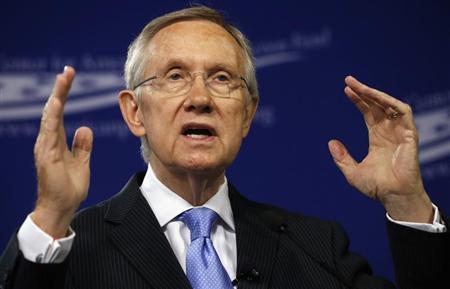 WASHINGTON | Mon Jul 15, 2013 11:16pm EDT
(Reuters) - U.S. senators failed to reach a deal on Monday to avert a showdown over President Barack Obama's executive-branch nominees and threats by Democrats to strip Republicans of their power to block such nominations with procedural hurdles known as filibusters.
Emerging from a meeting of all 100 senators that lasted more than three hours, Majority Leader Harry Reid, a Nevada Democrat, said talks would go on. But it was unclear if the two sides would find common ground before Tuesday's scheduled votes on seven nominees.
"We've had a very good conversation," Reid told reporters. "The conversation is going to continue."
Reid has said that unless all seven nominees are confirmed, Democrats were prepared to ignite "the nuclear option," an unprecedented procedural power play to change the rules on filibusters.
Democrats, who control the Senate 54-46, have said their aim would be to reduce to 51 from the current 60 the number of votes needed to end filibusters against executive branch nominees.
Such action would cap years of Senate partisan battles and paralysis, and likely trigger even more fights and gridlock between Obama's Democrats and Republicans.
"For a time, I think we will grind to a halt," warned Republican Senator John McCain.
At Monday's meeting, members urged Reid and Senate Republican Leader Mitch McConnell to keep talking to each other.
"I think the foundation is to try and find a path forward," said Republican Senator John Boozman. "It's not there yet."
Democratic Senator Chris Coons said, "Joint caucus (meeting) was constructive, respectful and deliberate. Didn't reach a deal, but I think we made progress understanding each other."
Senate votes were set for Tuesday on the following nominees: Richard Cordray to be director of the Consumer Financial Protection Bureau; Richard Griffin, Sharon Block and Mark Pearce to be members of the National Labor Relations Board; Fred Hochberg to be president of the U.S. Export-Import Bank; Thomas Perez to be labor secretary; and Gina McCarthy to be head of the Environmental Protection Agency.
"It is time to resolve this," Assistant Senate Democratic Leader Dick Durbin said. "The president was reelected and he needs his team."
Current Senate procedures state that 67 votes are needed to change its rules. But Democrats could do it with 51 votes by rewriting the rule book under the "nuclear option."
Reid has said he would seek to change the filibuster rules only on executive-branch posts, not on judicial nominees or legislation.
"The Senate is broken and needs to be fixed," Reid, the top Democrat in Congress, said in a speech earlier in the day at the Center for American Progress, a liberal advocacy group.
LONG HISTORY OF FILIBUSTERS
The filibuster has long been part of the Senate's basic fabric, allowing the minority to extend debate and pressure the majority to compromise.
But Democrats have accused Republicans of recklessly using the filibuster to block qualified Obama nominees for a variety of jobs, contributing to political gridlock in Washington.
McConnell has denied that his party has obstructed nominees, noting that more than 1,500 of Obama's picks had been confirmed during the past four and a half years, many overwhelmingly. He has accused Democrats of getting ready for "a power grab" by moving to "change the rules by breaking the rules."
While the Senate can set its own rules, Reid contends that under the U.S. Constitution only a simple majority is needed for most Senate action, including confirmation of nominees.
"The Founding Fathers wanted an up-or-down vote, and that's basically what we have been crying for now for years," he said.
The Constitution calls for a super majority only in certain instances, such as to impeach a president, override a presidential veto, ratify a treaty or approve a constitutional amendment.
In a brief question-and-answer session after his speech, Reid was asked if Republicans could avert a rules change by confirming at least some of the nominees.
"No," Reid said, adding that his demand for all seven nominees was non-negotiable.
"No one questions their capabilities, their credentials, their integrity," said Reid, who accused Republicans of blocking them because they do not like the agencies they would head.
"We want to make a simple change. It will apply to whoever is our next president, Democrat or Republican. It will apply to President Obama," Reid said.
(Additional reporting by Richard Cowan, Editing by Will Dunham, Lisa Shumaker and Jim Loney)