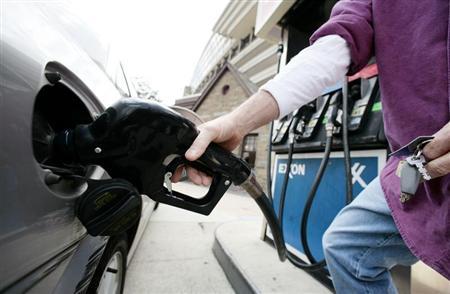 WASHINGTON | Tue Jul 16, 2013 9:06am EDT
(Reuters) - U.S. consumer prices rose more than expected in June as gasoline prices jumped and underlying inflation pressures stabilized, keeping on track expectations the Federal Reserve will start scaling back its bond purchases later this year.
The Labor Department said on Tuesday its Consumer Price Index increased 0.5 percent, the largest increase since February, after nudging up 0.1 percent in May. Gasoline prices accounted for about two thirds of the increase in the CPI.
Economists polled by Reuters had expected consumer inflation to increase 0.3 percent last month.
In the 12-months through June, consumer prices advanced 1.8 percent after rising 1.4 percent in May. It was also the largest increase since February.
Stripping out volatile energy and food, consumer prices increased 0.2 percent for a second straight month. That took the increase over the 12 months to June to 1.6 percent, the smallest increase since June 2011. The so-called core CPI had increased 1.7 percent in May.
While both inflation measures remain below the Federal Reserve's 2 percent target, details of the report suggested the recent disinflation trend had probably run its course, with medical care costs rising.
Fed Chairman Ben Bernanke, who last month said the central bank would start cutting back the $85 billion in bonds it is purchasing each month to keep borrowing costs low, has viewed the low inflation as temporary and expects prices to push higher.
Alan Ruskin, an analyst at Deutsche Bank in New York, said the report should "counter arguments that there is a material deflation risk."
"The data does not provide much support for Bernanke making too much of low inflation in again asserting the dovish outlook he provided last week," he said.
There were also increases in the prices for new motor vehicles, apparel and household furnishings. That could keep on track expectations the U.S. central bank will start scaling back its massive monetary stimulus in September.
Last month, gasoline prices soared 6.3 percent after being flat in May. June's increase in the cost of gasoline was the largest since February. When unadjusted for seasonal fluctuations, gasoline prices rose only 0.6 percent.
Food prices increased 0.2 percent after slipping 0.1 percent the prior month.
Overall housing costs maintained their steady rise, with owners' equivalent rent - which accounts for about a third of the core CPI - increasing 0.2 percent after a similar gain in May.
Medical care services rose 0.4 percent after being flat in May, while medical care commodities rebounded 0.5 percent as the cost of prescription drugs increased. Medical care commodities had dropped 0.5 percent the previous month.
Weak medical care costs have been the one of the key contributors to the low inflation rate.
Economists cite a host of reasons for the low health costs, ranging from the expiration of patents on a number of popular prescription drugs to government spending cuts that are reducing payments to doctors and hospitals for Medicare.
"It's unclear we have seen all the medical care softness or we might see softness later this year from the effect of sequester," said Laura Rosner, an economist at BNP Paribas in New York.
Apparel prices pushed up 0.9 percent, the largest increase since August 2011, after edging up 0.2 percent in May.
New motor vehicle prices increased 0.3 percent. They had been flat in May. Prices for used cars and trucks fell for a second straight month.
(Reporting by Lucia Mutikani; Additional reporting by Richard Leong in New York; Editing by Andrea Ricci)