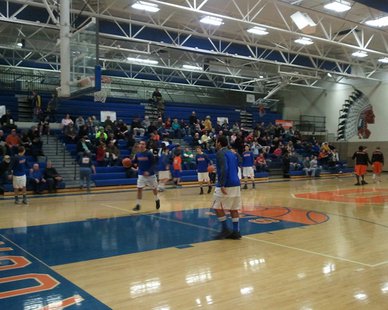 UNDATED (WHTC) - High school boys' basketball along the Lakeshore last night saw Holland Christian winning at Holland, 59-55; West Ottawa disposing of visiting Grand Haven, 45-33; Hamilton needing overtime to defeat visiting Zeeland West, 54-51; Zeeland East losing at Grand Rapids Union, 46-42; Saugatuck outlasting visiting North Muskegon in overtime, 59-56; Fennville victorious at Hartford, 74-59; and Calvary handling visiting Potter's House, 61-41.
In girls' action: Holland Christian 55, Holland 41; Grand Haven 46, West Ottawa 39; Hamilton 57, Zeeland West 42; Zeeland East 60, Grand Rapids Union 25; Hartford 55, Fennville 38; and Calvary 48, Potter's House 34.
On Friday, hear the Zeeland West at Holland boys' game on 1450 WHTC and http://whtc.com/listen-live at 5:40 PM; while the Fennville at Saugatuck boys/girls doubleheader is on 92.7 The Van and http://927thevan.com/listen-live at 5:10 PM.
***
Hope College takes on Adrian College on two basketball fronts this evening. While the women play at Adrian, the men battle at DeVos Fieldhouse, with coverage on 92.7 The Van and http://927thevan.com/listen-live at 7:10 PM.
In state major college basketball tonight: Michigan hosts Northwestern; Western Michigan visits Miami of Ohio; Central Michigan travels to Buffalo; Eastern Michigan plays at Ohio U.; and Detroit takes on Wright State in Dayton.
***
Valtteri Filppula scored twice as the Red Wings beat visiting Dallas last night, 4-1. Detroit welcomes St. Louis to Joe Louis Arena on Friday evening.
The Chicago Blackhawks take on the Minnesota Wild in St. Paul tonight.
***
Brandon Jennings tallied 30 points in leading visiting Milwaukee past the Pistons last night, 117-90. This evening in the NBA, Detroit travels to Indiana, while the Bucks return home to welcome the Chicago Bulls.