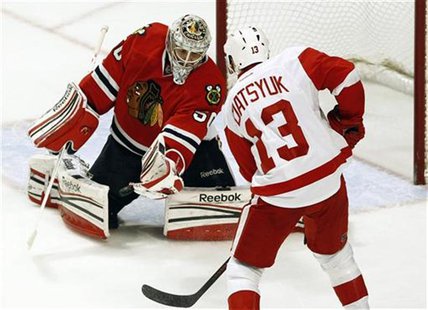 UNDATED (WHTC) - Nick Leddy's goal 2:45 into overtime lifted the Blackhawks to their sixth win without a loss so far this season, a 2-1 decision over the visiting Red Wings last night. Tomorrow evening, Detroit welcomes Dallas to Joe Louis Arena, while Chicago skates at Minnesota on Wednesday night.
***
Brandon Knight tossed in 31 points as the Pistons won at Orlando last night, 104-102. Detroit is home to Milwaukee at the Palace tomorrow evening.
The Bulls entertain Charlotte at the United Center in Chicago tonight.
***
In state major-college basketball yesterday: Michigan State fell at Indiana, 75-70; and Michigan was victorious at Illinois, 74-60.