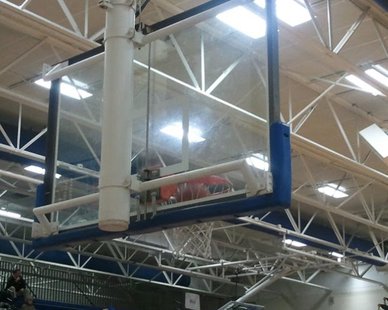 UNDATED (WHTC) - It was doubleheader action in high school basketball along the Lakeshore on Friday night, as all 20 varsity basketball teams were matched in twin-bills. At Byron Center, the Bulldogs swept a pair from Holland by scores of 50-46 for the boys and 38-37 for the girls. At the Holland Civic Center, both games went into overtime, with Holland Christian's boys winning, 71-70, and Hamilton's girls triumphant, 60-54. At Hudsonville, the Eagles took two from West Ottawa by scores of 48-38 for the boys and 47-38 for the girls. In Muskegon, Zeeland East split a pair, with the Chix winning the boys' game, 67-61, but the Big Reds taking the girls' contest, 49-33. At Zeeland West, Unity Christian won twice over the Dux by scores of 56-49 for the boys and 34-16 for the girls. Saugatuck swept a pair at Bloomingdale by scores of 62-51 for the boys and 42-36 for the girls. Fennville lost twice at Gobles by scores of 59-56 for the boys and 74-34 for the girls. Calvary won twice at Algoma Christian by scores of 59-50 for the boys and 68-28 for the girls. Black River split a pair at Zion Christian, with the boys winning, 57-51, but the girls losing, 42-41. Hear boys' basketball action at 6:40 PM this Tuesday evening, with the Holland Christian at Holland game on 1450 WHTC and http://whtc.com/listen-live, and the North Muskegon at Saugatuck contest on 92.7 The Van and http://927thevan.com/listen-live.
***
Hope College has both of its basketball teams in action on Saturday. While the women stay home to entertain Albion at DeVos Center in a matinee, the Flying Dutchmen travel to Alma for an evening contest that airs at 7:10 PM on 92.7 The Van and http://927thevan.com/listen-live.
Grand Valley State's basketball teams are in Detroit for matinees against Wayne State on Saturday.
In state major college basketball on Saturday: Eastern Michigan hosts Northern Illinois and Detroit visits Loyola of Chicago during afternoon encounters; evening contests include Western Michigan at Central Michigan and Oakland entertaining Western Illinois.
***
Pavel Datsyuk and Henrik Zetterberg each had a goal and an assist in a four-goal, second-period blitz for the Red Wings, who went on to beat visiting Minnesota on Friday night, 5-3. Detroit plays the Blackhawks in Chicago on Sunday evening, with coverage on 1450 WHTC at 6:40 PM. The Hawks have a game in Columbus on Saturday night before hosting the Wings.
***
Dwayne Wade scored 29 points as Miami defeated the visiting Pistons on Friday night, 110-88. Detroit plays at Orlando on Sunday evening.
Kirk Hinrich's 25-point performance helped the Bulls handle visiting Golden State on Friday night, 103-87. Chicago travels to Washington on Saturday evening.
***
Justin Fontaine scored late in the second period, and Darcy Kuemper made that slim margin hold up by stopping 28 shots, as visiting Houston blanked the Griffins on Friday night, 1-0. The two teams have a rematch at Van Andel Arena in Grand Rapids on Saturday evening.