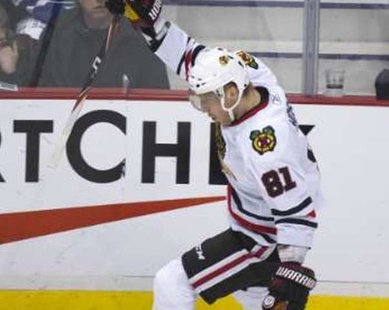 UNDATED (WHTC) - Teams guided by sons of former Western Michigan University football coach Jack Harbaugh will face each other in Super Bowl 47 at New Orleans after scoring NFL Conference Championship victories yesterday. After Jim Harbaugh's San Francisco 49ers won at Atlanta, 28-24, John Harbaugh's Baltimore Ravens were victorious at New England, 28-13. You can hear the "Harbaugh Bowl" on 1450 WHTC, with coverage on February 3rd at 4 PM.
***
The Red Wings skate at Columbus this evening. Catch all of the action on Holland's Hometown Station, beginning at 7:10 PM
For the second straight game, Marian Hossa scored twice and set up another goal in leading the Blackhawks to victory, this time a 6-4 triumph at Phoenix last night. Chicago has its home opener tomorrow evening when it welcomes St. Louis to the United Center.
***
Andre Drummond paced a balanced attack with 16 points as the Pistons routed visiting Boston last night, 103-88. Detroit hosts Orlando at the Palace tomorrow evening.
The Chicago Bulls are home to the Los Angeles Lakers at the United Center tonight.