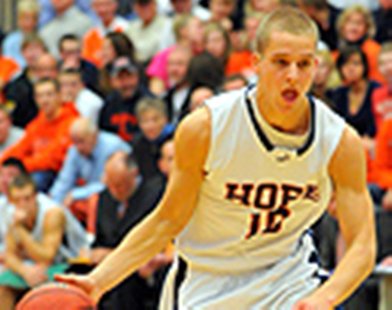 UNDATED (WHTC) – Brock Benson and Colton Overway each scored 18 points as Hope's Flying Dutchmen won at Adrian on Saturday, 81-72. The Orange and Blue travel to Albion on Wednesday evening, with broadcast time on 92.7 The Van and http://927thevan.com/listen-live at 7:10 PM.
Courtney Kust tossed in 12 points as Hope's Flying Dutch downed visiting Alma on Saturday, 69-36. The Orange and Blue welcome Adrian to DeVos Fieldhouse on Wednesday evening.
Grand Valley State split its second basketball doubleheader at home in less than 48 hours on Saturday, but the roles were reversed from Thursday night as Malone came to Allendale. The men were victorious this time around, 78-63, as Ryan Sabin scored 18 points for the Lakers. Behind 17 points and 11 rebounds, the visiting Pioneers beat the women, 61-48. Both of GVSU's teams are back in action at the Fieldhouse Arena next Thursday evening, hosting Northern Michigan.
In state major college basketball on Saturday: Michigan State beat visiting Purdue, 84-61; Eastern Michigan fell at Massachusetts, 75-61; Detroit downed visiting Green Bay, 84-76; and Oakland lost at Alabama, 65-45. On Sunday afternoon, Michigan is home to Iowa.
***
At the Crusader high school basketball tournament in the Holland Civic Center on Saturday, Calvary downed rival Black River twice, with the girls taking the tournament crown, 47-43, and the boys capturing the consolation contest, 65-56. Catch high school basketball at 6:40 PM this coming Tuesday night on our stations, with the Grand Rapids Catholic Central at Hamilton boys' game on 1450 WHTC and http://whtc.com/listen-live, and the Lawton at Saugatuck girls' game on 92.7 The Van and http://927thevan.com/listen-live.
***
More NFL playoff action is on 1450 WHTC this Sunday, beginning at 12:30 PM with Indianapolis at Baltimore, followed by Seattle at Washington.
***
NBA play on Sunday evening finds the Detroit Pistons home to Charlotte at the Palace.