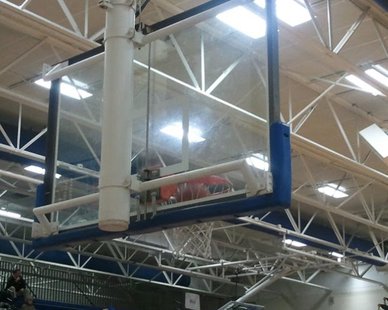 UNDATED (WHTC) - There was plenty of high school basketball action along the Lakeshore last night. In boys' play: Holland Christian defeated Holland, 61-52; West Ottawa lost to Grand Haven, 53-50; Zeeland East beat Grand Rapids Union, 60-41; Hamilton defeated Zeeland West, 69-49; Saugatuck won the SAC North by beating Martin, 68-41; Fennville defeated Bloomingdale, 69-59; and Calvary beat Grand River Preparatory, 75-70. On the girls' side: Holland Christian beat Holland, 51-33; West Ottawa fell to Grand Haven, 39-27; Zeeland East defeated Grand Rapids Union, 46-37; and Hamilton beat Zeeland West, 58-34.
This evening, Saugatuck's girls entertain Watervliet, while Calvary's boys and girls host Algoma Christian at the Holland Civic Center. In boys' action on Friday night, hear the Holland at Zeeland West game on 1450 WHTC and http://whtc.com/listen-live at 5:40 PM, while the Southwestern Athletic Conference championship contest between Saugatuck and visiting Decatur is on 92.7 The Van and http://927thevan.com/listen-live at 6:40 PM.
***
Courtney Kust scored 16 points as Hope's women downed visiting Olivet in MIAA tournament semifinal action last night, 64-45. The Flying Dutch are at Calvin for the conference title on Saturday afternoon at 2:40 PM on 92.7 The Van and http://927thevan.com/listen-live.
Hope's men are home to Trine in a MIAA tournament semifinal contest this evening. Coverage is at 7:10 PM on 92.7 The Van and http://927thevan.com/listen-live.
Grand Valley State's men and women both play at Saginaw Valley State this evening.
In state major college basketball last night: Eastern Michigan lost to Ohio U., 73-50; and Oakland fell at Indiana-Purdue-Fort Wayne, 77-71.
***
The Red Wings welcome Columbus to Joe Louis Arena this evening. Hear all of the action from Hockeytown at 7:10 PM on 1450 WHTC.
***
Brandon Knight scored 19 points as the Pistons won at Charlotte last night, 105-99. Detroit travels to Indiana tomorrow evening.
The Chicago Bulls entertain Miami at the United Center tonight.