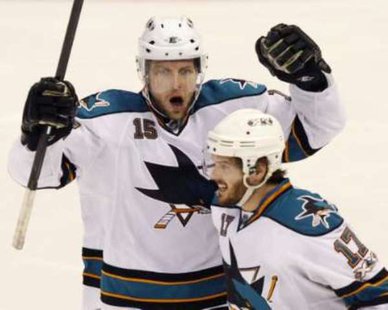 UNDATED (WHTC) - Torrey Mitchell's goal with 6:15 left in the second period capped a three-goal Minnesota blitz in the middle stanza, as the Wild rallied from a 2-0 deficit to defeat the visiting Red Wings last night, 3-2. Detroit is at Nashville tomorrow evening; we'll carry Thursday night's game versus Columbus from Hockeytown at 7:10 PM on 1450 WHTC.
Brent Seabrook and Jonathan Toews each had a goal and an assist, as the Blackhawks held off visiting Los Angeles yesterday, 3-2. Chicago is home to Vancouver tomorrow evening.
***
Jonas Gustavsson made 26 saves in an injury rehab start from the Red Wings, as he backstopped the Griffins to a 2-1 victory over visiting Charlotte yesterday, Grand Rapids skates at Rockford on Friday evening.
***
Chicago Bulls forwards Luol Deng and Joakim Noah had 10 and eight points, respectively, but their East squad lost to the West in last night's NBA All-Star Game at Houston, 143-138. League play resumes tomorrow evening, with the Detroit Pistons hosting Memphis, and the Bulls playing in New Orleans.
***
In college basketball yesterday, Michigan defeated visiting Penn State, 79-71. Hope College are in two MIAA tournaments, with the women hosting Olivet on Wednesday evening, and the men entertaining Trine on Thursday night. Hear both games from DeVos Fieldhouse on 92.7 The Van and http://927thevan.com/listen-live at 7:10 PM each evening.
***
High school basketball action resumes tomorrow evening at 6:40 PM, with the Holland-Holland Christian game from the Holland Civic Center on 1450 WHTC and http://whtc.com/listen-live, and the Martin at Saugatuck contest on 92.7 The Van and http://927thevan.com/listen-live.
***
Looking ahead to Friday afternoon, exhibition baseball begins for the Detroit Tigers, as they take on Atlanta in a game that will be on 1450 WHTC, starting at 1 PM.