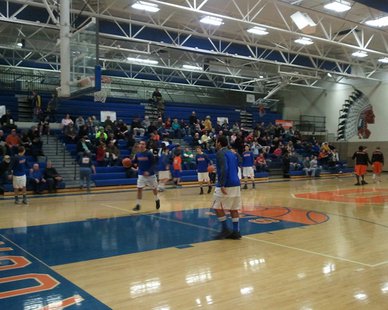 UNDATED (WHTC) - In high school boys' basketball along the Lakeshore last night, Saugatuck won at Martin, 61-40, while Calvary downed visiting Providence Christian, 61-46. This evening, boys/girls doubleheader action is on tap in most Lakeshore match ups, with the Holland Christian at Hamilton boys' game heard on 1450 WHTC and http://whtc.com/listen-live at 5:40 PM. Other twin bills include Byron Center at Holland, Hudsonville at West Ottawa, Muskegon at Zeeland East, Zeeland West at Unity Christian, and Black River at Fruitport Calvary. Fennville's boys travel to Tri-unity Christian. In girls' play, the Lawton at Saugatuck contest is on 92.7 The Van and http://927thevan.com/listen-live, starting at 6:40 PM, while Fennville entertains Marcellus.
***
Grand Valley State swept a basketball doubleheader from visiting Lake Superior State last night. In the opener, Breland Hogan tossed in 23 points as the men were victorious, 82-57. The women took the nightcap, 73-53, thanks in part to 12 points from Dani Crandall. GVSU has another twin bill on tap tomorrow afternoon in Midland against Northwood.
In state major college basketball last night, Oakland won at South Dakota, 76-75.
Hear Hope College basketball tomorrow at 12:40 PM on 92.7 The Van and http://927thevan.com/listen-live, as the Flying Dutchmen are in Angola, Indiana to face the Trine Thunder.
***
Hockey action this evening has the Red Wings home to Anaheim, the Blackhawks hosting San Jose, and the Griffins entertaining Lake Erie. We'll carry the Red Wings' game in Minnesota on Sunday evening at 5:40 PM on 1450 WHTC.