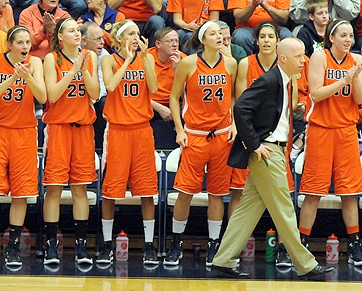 UNDATED (WHTC) - Hope College swept a pair of basketball games last night. In Kalamazoo, Alex Eidson scored 14 points as the Flying Dutchmen beat the Hornets, 82-55. At DeVos Fieldhouse, Brittany Berry's 12 points helped the Flying Dutch defeat visiting Olivet, 74-47. Both of Hope's teams are at home and on 92.7 The Van and http://927thevan.com/listen-live on Saturday, with the Flying Dutchmen's game versus Calvin at 2:40 PM and the Flying Dutch contest against Rochester at 7:40 PM.
Grand Valley State's basketball teams begin their annual trek to the Upper Peninsula this evening with games in Marquette against Northern Michigan.
In state major college basketball last night: Michigan State beat Minnesota, 61-50; Western Michigan handled Kent State, 82-76; and Eastern Michigan cruised past Buffalo, 65-46. This evening, Detroit visits Wisconsin-Milwaukee, and Oakland is home to North Dakota State.
***
The Detroit Red Wings hit the ice in St. Louis versus the Blues tonight. Hear all of the action on 1450 WHTC, beginning at 7:40 PM.
The Chicago Blackhawks skate in Phoenix against the Coyotes this evening.
***
Brook Lopez tossed in 17 points as visiting Brooklyn beat the Pistons last night, 93-90. Detroit welcomes San Antonio to the Palace of Auburn Hills tomorrow evening.
The Chicago Bulls are in Denver to face the Nuggets tonight.
***
Thomas McCollum stopped 28 shots as the Griffins blanked visiting Houston last night, 2-0. Grand Rapids begins a two-game series in Oklahoma City against the Barons tomorrow evening.
***
Both of the Lakeshore's Alliance League members have high school basketball doubleheaders tonight, with Black River home to Heritage Christian, and Calvary playing at Wellspring Preparatory. Tomorrow evening, hear the Zeeland West-Holland Christian boys' game from the Holland Civic Center at 5:40 PM on 1450 WHTC and http://whtc.com/listen-live, and the Bangor at Saugatuck doubleheader airs on 92.7 The Van and http://927thevan.com/listen-live at 5:10 PM.