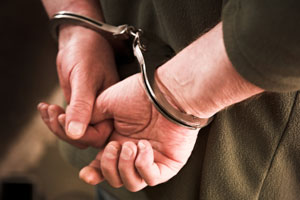 GRAND HAVEN TWP., MI (WHTC) - A man's attempt to burgle a Grand Haven-area auto shop last night ended up with him behind bars.
Ottawa County Sheriff's Sergeant Chris Koster and officers from several jurisdictions were sent to Downtown Auto Service on 172nd Avenue in Grand Haven Township when alarms were activated. THe suspect was spotted inside of the building as they arrived, but before an outer perimeter was able to be enacted, the man fled on foot. It didn't take long for canine units to track their man, aided by fresh snowfall, as he was found hiding between a building and some shrubbery more than a mile away from the crime scene. He surrendered without incident.
No names were disclosed pending arraignment in Grand Haven District Court; an investigation continues.