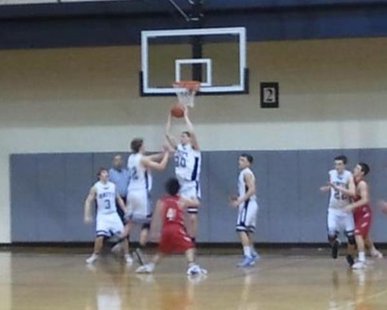 UNDATED (WHTC) - High school boys' basketball results from last night: West Ottawa 50, Hamilton 45; South Christian 54, Zeeland East 37; Zeeland West 74, Bridgman 34; Saugatuck 56, Lawrence 44; and Fennville 62, Marcellus 56. On Friday evening, hear the Fennville at Saugatuck game on 92.7 The Van and http://927thevan.com/listen-live at 5:10 PM, followed at 7:10 PM on 1450 WHTC and http://whtc.com/listen-live by the Zeeland East at Zeeland West contest.
High school girls' basketball results from last night: Holland 47, East Grand Rapids 28; Hamilton 36, West Ottawa 33; Zeeland West 41, Black River 36; Saugatuck 45, Lawrence 41; and Marcellus 26, Fennville 22.
***
Grand Valley State swept a basketball doubleheader at Ohio Dominican last night. Trevin Alexander's 16 points led the men to a 67-62 triumph, while Bailey Cairnduff talled 14 in the women's 68-55 victory. GVSU's men host Grace Bible this Saturday afternoon, while the Lady Lakers are at Indianapolis on Sunday.
In state major college basketball last night: Michigan State 78, North Florida 48; and Jacksonville State 82, Central Michigan 73. This evening, Western Michigan is at Drake and Detroit is at Akron.
Catch Hope College basketball this Friday night at 7:40 PM on 92.7 The Van and http://927thevan.com/listen-live, as the Flying Dutchmen entertain Lake Forest at DeVos Fieldhouse.
***
Visiting Anaheim scored four goals in the first period last night and went on to hand the Red Wings their sixth straight defeat, 5-2. Detroit hosts Calgary tomorrow evening, with coverage on 1450 WHTC at 7:10 PM.
Duncan Keith scored one goal and set up another in the first period last night, as the Blackhawks won at Nashville, 3-1. Winners in five of its last six games, Chicago is home to Vancouver on Friday evening.
***
NBA action tonight finds the Detroit Pistons at Boston and the Chicago Bulls in Houston.
***
American Hockey League play this evening has the Grand Rapids Griffins at Iowa.
***
Catch a NFL doubleheader this Sunday on 1450 WHTC, beginning at 3 PM with the Detroit Lions hosting the New York Giants, followed by the Chicago Bears' Sunday Night game at Philadelphia.