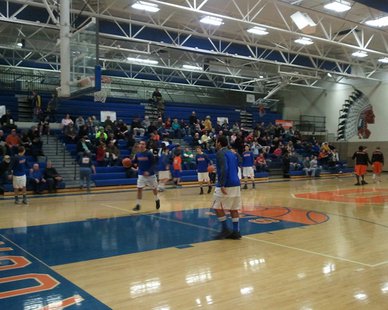 UNDATED (WHTC) - Here's last night's high school basketball scoreboard along the Lakeshore – Boys: Holland 56, Grand Haven 49; Holland Christian 50, Zeeland East 34; Zeeland West 59, Grand Rapids Catholic Central 53; Hamilton 76, Hopkins 46; Saugatuck 67, Gobles 19; Fennville 71, Bangor 53; Algoma Christian 80, Black River 43; and Wyoming Godfrey Lee 61, Calvary 55 – Girls: Mona Shores 47, Holland 17; Holland Christian 63, Zeeland East 23; Grand Rapids Catholic Central 34, West Ottawa 32; Hamilton 69, Hopkins 21; Gobles 45, Saugatuck 35; Bangor 54, Fennville 52; Black River 43, Algoma Christian 26; and Calvary 32, Wyoming Godfrey Lee 24.
In boys' action next Friday evening, hear the Fennville at Saugatuck game on 92.7 The Van and http://927thevan.com/listen-live at 5:10 PM, and the Zeeland East-Zeeland West contest on 1450 WHTC and http://whtc.com/listen-live at 7:10 PM.
***
Maura McAfee led a balanced Hope attack with 13 points as the Flying Dutch downed visiting Findlandia last night, 78-46. Hope now hosts Capital at DeVos Fieldhouse this afternoon, with broadcast time on 92.7 The Van and http://927thevan.com/listen-live at 2:40 PM.
In state major college basketball, matinees today find Michigan State at Oakland and Michigan hosting Arizona, while contests this evening has Central Michigan in Dayton and Detroit at North Carolina State.
***
NHL play tonight has the Detroit Red Wings hosting Pittsburgh in a game that is on 1450 WHTC at 6:40 PM, and the Chicago Blackhawks skating at Toronto.
***
Grand Valley State is at Northwest Missouri State in NCAA Division II football tournament semifinal action this afternoon.
***
Andre Drummond scored 22 points and grabbed 13 rebounds, while Greg Monroe also tallied 22 with 11 caroms, as the Pistons beat visiting Brooklyn last night, 103-99. Detroit entertains Portland tomorrow evening.
Joakim Noah had 21 points and 18 rebounds, but the Bulls needed a triple from Mike Dunleavy with less than six seconds left to win in Milwaukee last night, 91-90. Chicago welcomes Toronto to the United Center this evening.
***
Goals by Ryan Sproul, Mitch Callahan and Teemu Pulkkinen in the last five minutes of the first period were enough for the Griffins to beat visiting Milwaukee last night, 4-2. The two teams have a rematch at Van Andel Arena in Grand Rapids this evening.