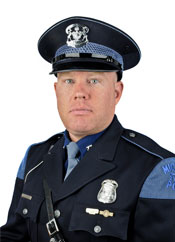 LUDINGTON (WKZO) -- The wife of the west Michigan man accused of killing a Michigan State Police trooper in September is going to prison for two to five years.
Sarah Knysz was sentenced Tuesday in Mason County for unlawful driving away of an automobile and agreed to testify against her husband, Eric, and his mother. Eric Knysz will go on trial in February for allegedly shooting and killing Trooper Paul Butterfield during a traffic stop in September.
Sarah Knysz is due to give birth to she and her husband's first child within the next month and provisions have been made for the child while she is behind bars.