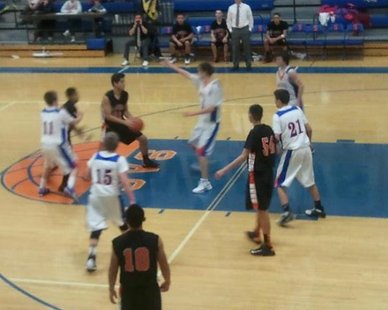 UNDATED (WHTC) - The high school boys' basketball season began along the Lakeshore last night. Holland beat visiting West Ottawa, 41-29; Holland Christian defeated visiting Grand Haven, 51-49; Hamilton downed visiting Allegan, 62-39; and Fennville won over Calvary at Holland Christian, 62-50. Weather postponed the Saugatuck at Lee game until this evening; no make-up date was immediately announced for the Zeeland East at Hudsonville cancellation. On Friday night, catch the Gobles at Saugatuck contest on 92.7 The Van and http://927thevan.com/listen-live at 5:10 PM, and then hear the Holland Christian at Zeeland East game on 1450 WHTC and http://whtc.com/listen-live at 7:10 PM.
In prep girls' round ball action last night: West Ottawa 55, Holland 21; Grand Rapids Catholic Central 35, Holland Christian 28; and Hamilton 45, Allegan 34. Weather cancelled the Jenison at Zeeland West, Zeeland East at East Kentwood, Martin at Saugatuck and Bloomingdale at Fennville games, with no make-up dates immediately announced.
***
Brad Boyes' marker in the third round of the shootout enabled Florida to outlast the visiting Red Wings last night, 3-2. Detroit visits Tampa Bay on Thursday evening; catch the San Diego at Denver NFL game instead on 1450 WHTC at 8 PM.
Brandon Saad and Patrick Sharp each had two goals and two assists, leading the Blackhawks to victory at Dallas last night, 6-2. Chicago welcomes Philadelphia to the United Center this evening.
***
Kevin Love's 26-point, 16-rebound performance spurred visiting Minnesota to a 121-94 victory over the Pistons last night. Detroit travels to New Orleans this evening.
John Henson tossed in 25 points and grabbed 14 rebounds as Milwaukee beat the visiting Bulls last night, 78-74. Chicago plays in New York this evening.
***
The Grand Rapids Griffins entertain Chicago at Van Andel Arena in American Hockey League play this evening.
***
In state major college basketball last night, Eastern Michigan defeated visiting Green Bay, 67-58, but Oakland fell at Indiana, 81-54. Women's play has Hope entertaining Finlandia on Friday evening, with broadcast time on 92.7 The Van and http://927thevan.com/listen-live at 7:10 PM.