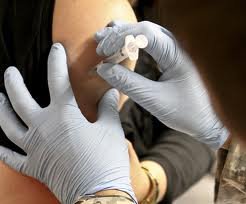 HOLLAND, MI (WHTC) - An illness more common for grandparents of current Holland High students has apparently come back.
The Ottawa County Health Department sent letters to the parents and guardians of the Dutch on Monday, notifying them that an unidentified student was "recently diagnosed with pertussis, commonly referred to as whooping cough" and that the ailing student is receiving "appropriate antibiotic therapy" at this time. The notice not only discussed the symptoms, but also what measures should be taken, and included an information sheet on the disease. No widespread outbreak has been reported thus far.
This is the second health warning this week in West Michigan, as the Kent County Sheriff's Department issued a caution for norovirus after hospitals in the Grand Rapids area reported a spike in emergency room patients suffering from symptoms such as cramps, nausea, vomiting and diarrhea commonly associated with this highly-contagious disease.