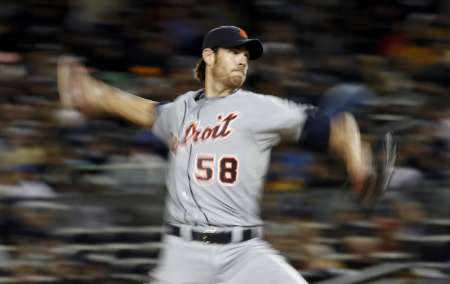 UNDATED (WHTC) - Overshadowing action on the field and court last night was word that the Detroit Tigers dealt RHP Doug Fister to the Washington Nationals in exchange for infielder Steve Lombardozzi, LHP Ian Krol and LHP Robbie Ray. It's the second major trade the Bengals have executed in the past month, after sending 1B Prince Fielder to Texas with cash for 2B Ian Kinsler.
***
In a Monday Night Football game that you heard on 1450 WHTC, Seattle beat visiting New Orleans, 34-7. NFL action coming up on Holland's Hometown Station includes the Houston at Jacksonville game at 8 PM on Thursday evening; the Detroit Lions at Philadelphia on Sunday at 12 Noon, followed by the Atlanta at Green Bay contest at 7:30 PM; and the Chicago Bears hosting Dallas next Monday night at 8 PM.
***
The Chicago Blackhawks host the Dallas Stars at the United Center this evening. Catch the Red Wings' game with Philadelphia from Joe Louis Arena tomorrow at 7:40 PM on 1450 WHTC.
***
Jrue Holiday's layup and subsequent free throw with less than three seconds left in overtime enabled visiting New Orleans to edge the Bulls last night, 131-128. Chicago entertains Miami at the United Center on Thursday evening, after the Heat welcome the Detroit Pistons to South Florida tonight.
***
State major college basketball this evening finds Michigan visiting Duke and Eastern Michigan home to Massachusetts. On Friday night at 5:40 PM on 92.7 The Van and http://927thevan.com/listen-live, hear the Hope College Flying Dutchmen as they face Wheaton in the MIAA/CCIW Challenge at Denoord Arena in Grand Rapids.