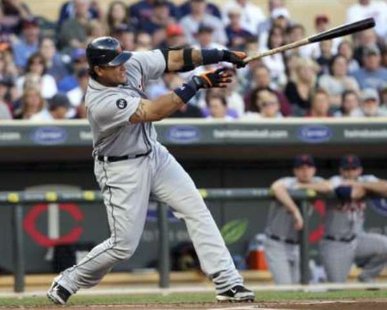 UNDATED (WHTC) - Miguel Cabrera slugged a three-run homer in the third inning to tie the game, and the Tigers plated three more in the sixth frame to win the contest, as Detroit salvaged the finale of a three-game series in Chicago by beating the White Sox yesterday, 6-4. This evening, while the Pale Hose travel to Minnesota for the start of a four-game series, the Bengals return to Comerica Park for the opener of a five-game set versus Kansas City. Coverage of the Tigers' game on 1450 WHTC begins at 6:40 PM.
Bronson Arroyo allowed just two hits and struck out seven over seven innings, as visiting Cincinnati completed a three-game series sweep of the Cubs by downing Chicago yesterday, 5-0. The Bruins are off until entertaining St. Louis at Wrigley Field tomorrow afternoon in the opener of a three-game series.
***
Kellen Sweeney's two-run single ignited a five-run second inning for Lansing, and the visiting Lugnuts went on to defeat the Whitecaps last night, 6-2. The series at Fifth Third Ballpark continues this evening.
***
The Lions and Bears have their second preseason tuneups on tap tonight, with Detroit traveling to Cleveland, while Chicago welcomes San Diego to Soldier Field.