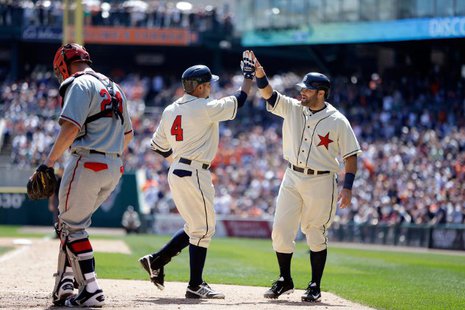 UNDATED (WHTC) - Omar Infante's two-run homer broke a 3-3 tie in the fourth inning, as the Tigers went on to beat visiting Atlanta on Saturday afternoon, 7-4. Detroit goes for the series sweep of the Braves on Sunday evening. Coverage from Comerica Park on 1450 WHTC begins at 7:40 PM.
***
David DeJesus came up with an RBI single in the seventh inning to give the Cubs a 3-2 win over the Marlins. Chicago has taken the first three of the four-game set to move to 9-and-14. Travis Wood jumped to 2-and-1 allowing two runs and striking out five across six innings.
***
Adam Dunn lifted a solo homer for Chicago in a 10-4 loss. Gavin Floyd gave up two runs and left in the top of the third inning with a right elbow injury. He was charged with the loss and fell to 0-and-4. The Sox saw a three-game winning streak end.
***
Mitch Haniger's two-run single highlighted a five-run seventh inning for Wisconsin, and the Timber Rattlers defeated the visiting Whitecaps on Saturday afternoon, 7-5. West Michigan opens up a three-game series in Beloit against the Snappers on Sunday. Hear the game on 1450 WHTC and http://whtc.com/listen-live at 2:50 PM.
***
The Red Wings are playoff-bound for a record 22nd straight time after a 3-0 win over the Stars in Dallas. Henrik Zetterberg scored twice and Jimmy Howard posted 17 saves for his fifth shutout of the year for Detroit. The Red Wings will be the seventh seed in the playoffs and face the second-seeded Anaheim Ducks in the first round.
***
Jaden Schwartz fired in two goals for St. Louis in a 3-1 win over the Blackhawks. Carter Hutton racked up 25 saves for the Hawks. Ben Smith had the lone goal for Chicago in the loss. The Western Conference leading Blackhawks finished the season with a record of 36-7-and-5 to capture their second Presidents' Trophy. Chicago will face the Minnesota Wild in the first round.
***
Nate Robinson tallied 34 points as the Bulls outlasted visiting Brooklyn in three overtimes on Saturday afternoon, 142-134. Chicago has a 3-1 lead in the best-of-seven Eastern Conference Quarterfinal Series, and can close out the Nets with a victory at the Barclays Center on Monday evening.