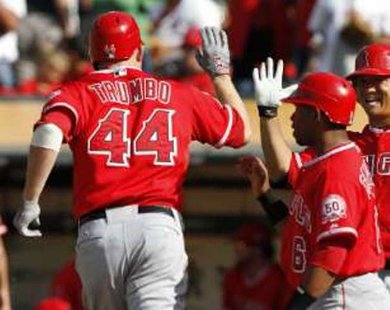 UNDATED (WHTC) - Mark Trumbo's homer in the 13th inning off of Phil Coke completed the Los Angeles Angels' weekend sweep of the visiting Tigers with yesterday's 4-3 triumph. Detroit hosts Kansas City to open a three-game series tomorrow night. Coverage on 1450 WHTC begins at 6:40 PM.
Ryan Braun's three-run homer in the fifth inning was the decisive blow in Milwaukee's 4-3 victory over the visiting Cubs yesterday. Chicago starts a series in Cincinnati this evening.
Josh Williingham's three-run double in the seventh inning enabled visiting Minnesota to beat the White Sox yesterday, 5-3. Chicago entertains Cleveland to commence a series at US Cellular Field tonight.
***
Fidel Peña single in the seventh inning snapped a 4-4 tie, and visiting South Bend held on to complete a weekend series sweep of the Whitecaps yesterday, 6-5. West Michigan begins a series against visiting Lake County this evening. Hear the game on 1450 WHTC and http://whtc.com/listen-live at 6:25 PM.
***
NHL action tonight finds the Red Wings welcoming Phoenix to Detroit's Joe Louis Arena, while the Chicago Blackhawks skate in Vancouver against the Canucks.
***
The Chicago Bulls are in Brooklyn this evening, with the Nets leading that NBA playoff series, one game to none.
***
Jeff Hoggan scored twice in the first period, and the Griffins went on to a season-ending 3-1 victory at Chicago yesterday. Grand Rapids begins an AHL playoff series in Houston on Friday night.