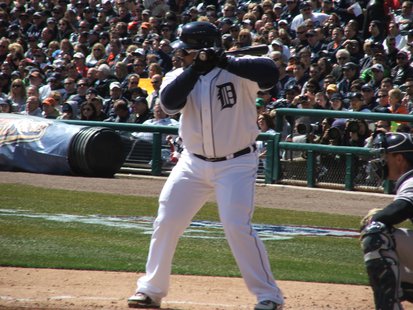 UNDATED (WHTC) - Prince Fielder cracked two homers, driving in five runs, as the Tigers won their home opener on Friday by downing the visiting New York Yankees, 8-3. The series at Comerica Park continues on Saturday afternoon. Coverage on 1450 WHTC is at 3:40 PM.
Justin Upton homered and drove in two runs, as Atlanta beat the visiting Cubs on Friday night, 4-1. The series at Turner Field continues on Saturday evening.
Kendrys Morales' RBI double in the 10th inning broke a 6-6 tie, and visiting Seattle held on to defeat the White Sox on Friday night, 8-7. The series at US Cellular Field continues on Saturday.
***
Montreal Robertson didn't allow a hit and walked one man with three strikeouts in five innings, setting the tone for the Whitecaps as they blanked visiting Dayton on Friday, 6-0. The series at Fifth Third Ballpark continues on Saturday afternoon.
***
Pavel Datsyuk's goal with 15 seconds left in overtime enabled the Red Wings to win at Colorado on Friday night, 3-2. Detroit hosts St. Louis on Sunday.
The Chicago Blackhawks are in Nashville on Saturday afternoon to face the Predators.
***
Luol Deng and Nate Robinson each scored 19 points, leading the Bulls to victory over visiting Orlando on Friday night, 87-86. Chicago plays the Detroit Pistons at the Palace of Auburn Hills on Sunday evening.
***
In the NCAA basketball tournament semifinals at the Georgia Dome in Atlanta on Saturday night, Michigan faces Syracuse after Louisville meets Wichita State.
***
Landon Ferraro scored twice as the Griffins won at Abbotsford on Friday night, 4-1, for the franchise's 700th victory. The two-game series at the Entertainment and Sports Centre in suburban Vancouver concludes on Saturday evening.