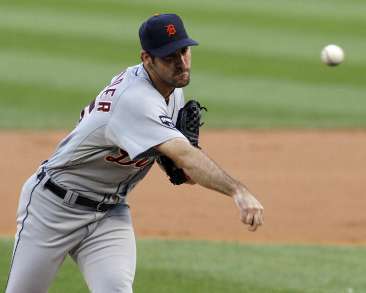 UNDATED (WHTC) - A new major league baseball season begins on Monday afternoon. Hear the Tigers' game at Minnesota on 1450 WHTC, beginning at 3:45 PM, while the Cubs start the campaign at Pittsburgh, and the White Sox commence their efforts at home against Kansas City.
***
Brandon Saad had two goals and an assist, as the Blackhawks routed the Red Wings out of Joe Louis Arena on Sunday afternoon, 7-1. On Monday evening, Detroit hosts Colorado, with coverage on 1450 WHTC following Tigers baseball at 7:10 PM, while Chicago welcomes Nashville to the United Center.
***
Luol Deng tossed in 28 points on Sunday night as the Bulls edged the visiting Pistons, 95-94. That's 18 straight wins over five years for Chicago over Detroit. The Pistons are at Toronto on Monday evening, while the Bulls travel to Washington on Tuesday night.
***
Michigan advanced to the NCAA basketball tournament semifinals with a 79-59 win over Florida in the South Regional finals at Arlington on Sunday. The Wolverines will meet Syracuse in the Final Four at Atlanta on Saturday evening.