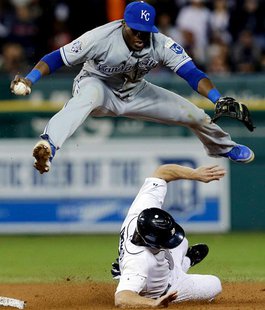 UNDATED (WHTC) - A take-out slide by Andy Dirks that broke up a double play in the eighth inning enabled the winning run to score last night, as the Tigers beat visiting Kansas City, 5-4. Now a game up in the AL Central, the Bengals go for the series sweep of the Royals this afternoon. Coverage from Comerica Park in Detroit on 1450 WHTC begins at 12:40 PM.
The White Sox fell a game behind the Tigers after losing to visiting Cleveland last night, 6-4. Shin-Soo Choo's ground out in the seventh inning plated the tie-breaking run for the Indians. Chicago opens up a four-game series versus Tampa Bay at US Cellular Field this evening.
Drew Pomeranz and two relievers teamed to spin a five-hit shutout, as Colorado blanked the visiting Cubs last night, 6-0. The Rockies go for the series sweep of Chicago at Coors Field in Denver this afternoon.
***
NFL football on 1450 WHTC tonight finds Cleveland visiting Baltimore, with broadcast time at 8 PM.
***
In Hope College athletics yesterday: The golfing Dutch finished second in a MIAA Jamboree at South Bend; the soccer Dutchmen lost to Calvin, 1-0; and the volleyball Dutch swept Trine in straight sets. This afternoon, the soccer Dutch travel to Adrian, while the golfing Dutchmen are in Angola, Indiana for a MIAA Jamboree that was rescheduled from last week due to rain.